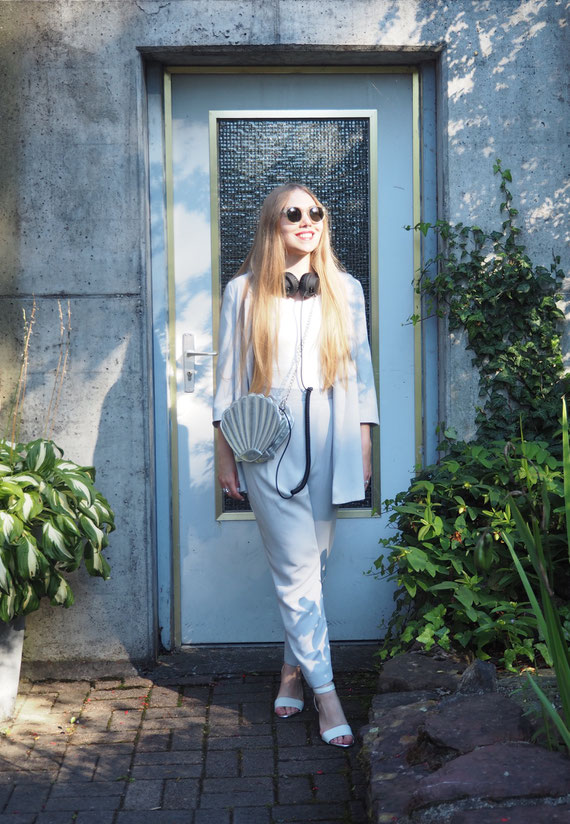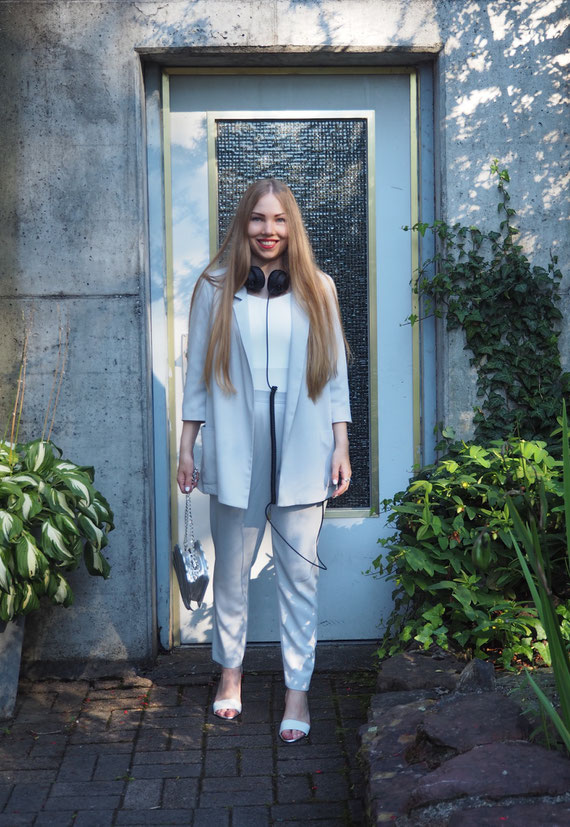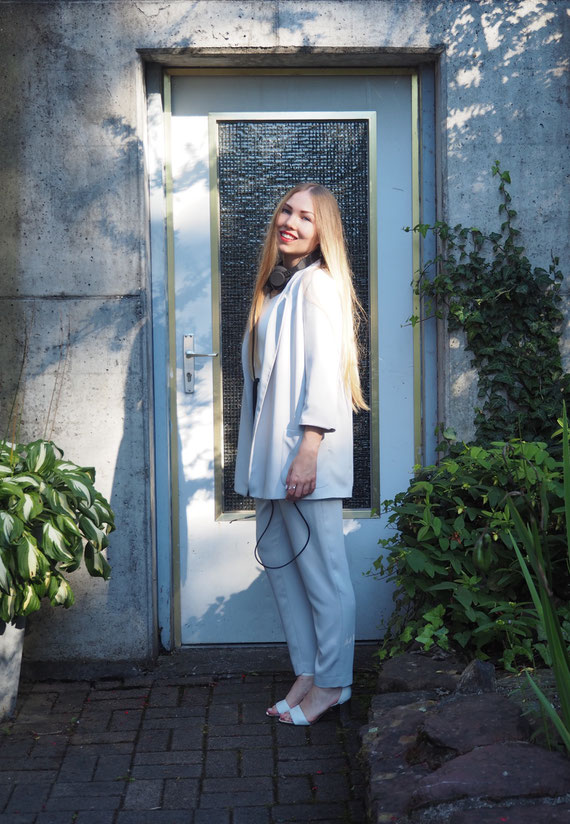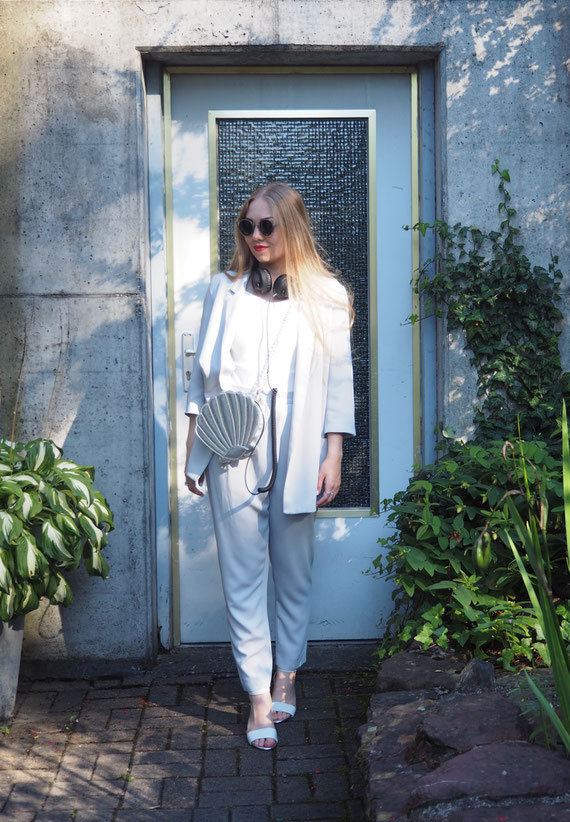 LEONIE FALKE - UNTERWASSERMANN (KLEINTIERSCHAUKEL REMIX)

Es ist für mich schon eher ungewöhnlich kein Schwarz zu tragen aber sag niemals nie, oder!?
Der Pastell-Anzug bildet die Basis im Outfit, welches ganz dezent mit Weiss und Silber ergänzt wurde. Im Grundsatz repräsentiert ein Anzugträger Selbstsicherheit und Macht. Es gibt jedoch so viele verschiedene Möglichkeiten sich mit einem Anzug auch anders auszudrücken, wenn man beispielsweise verschiedene Schnitte und Farben wählt und wie so oft, kann die Kombination entscheidend sein. Hier habe ich mich bewusst für einen schulterlosen weissen Body und eine Sandale entschieden, welche dem Look Eleganz verleihen sollen. Die silberne Tasche passt farblich und die Eleganz wird durch die silberne Farbe nicht vermindert, das Outfit erhält aber durch die muschelartige Form einen komplett neuen spielerischen Akzent.
Mit meiner Muscheltasche verknüpfe ich den Kleintierschaukel Remix Unterwassermann von Leonie Falke. Ihre sanfte Stimme lässt mich in die Welt des Unterwassermanns eintauchen und mit meiner Muschel fühle ich mich gut gerüstet. Dieser Track stammt aus der fünfteiligen EP Blue Elephant von Kleintierschaukel. Der Track Motomia hat es mir besonders angetan, die klaren Schläge in Kombination mit der schwingenden Melodie, die sich durch den ganzen Track zieht, lässt mich nicht mehr los. Während des Anhörens dieser EP möchte man sich automatisch vom Rest der Welt absorbieren um den Flow vollkommen auszukosten.
Translation
For me it is already quite unusual not to wear black but never say never, right!?
The pastel suit forms the basis in the outfit, which was discreet complemented with white and silver. In principle a suit wearer represents confidence and power. However, there are so many different ways to express themselves differently with a suit, for example, different cuts and colors and as so often the combination can be crucial. Here, I have chosen deliberately a white bodysuit and a sandal, which should give the look elegance. The silver bag is color-coordinated and doesn't reduce the elegance, but the outfit receives a completely new playful accent through the shell-shape of the bag.
I connect the shell-shape bag with a Kleintierschaukel remix called Unterwassermann by Leonie Falke. With her gentle voice I dip into the world of the underwater man and I feel well prepared with my shell. This track stem from a five-part EP Blue Elephant by Kleintierschaukel. In particular the track Motomia impressed me, the clear beats in combination with the swinging melody that runs through the whole track, won't get out of my mind. While listenening to this EP, you want to be automatically absorbed by the rest of the world to savor the flow completely.