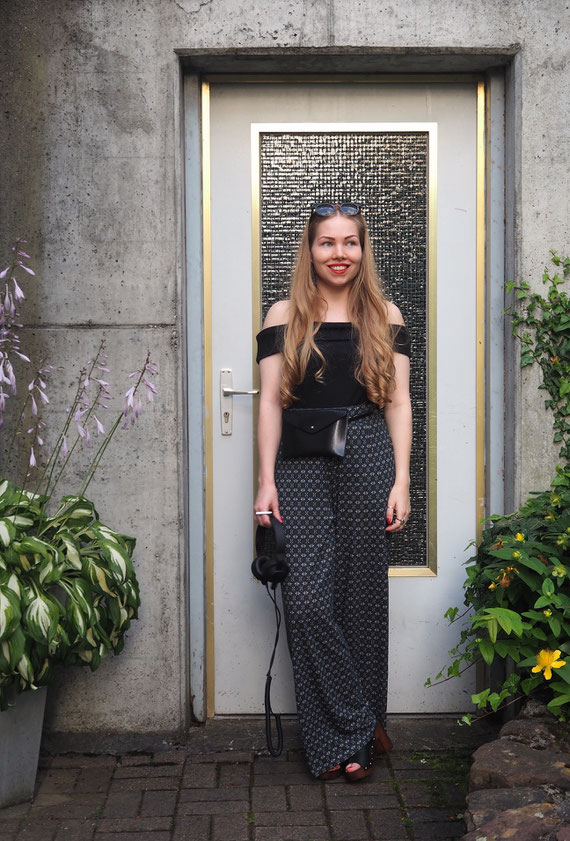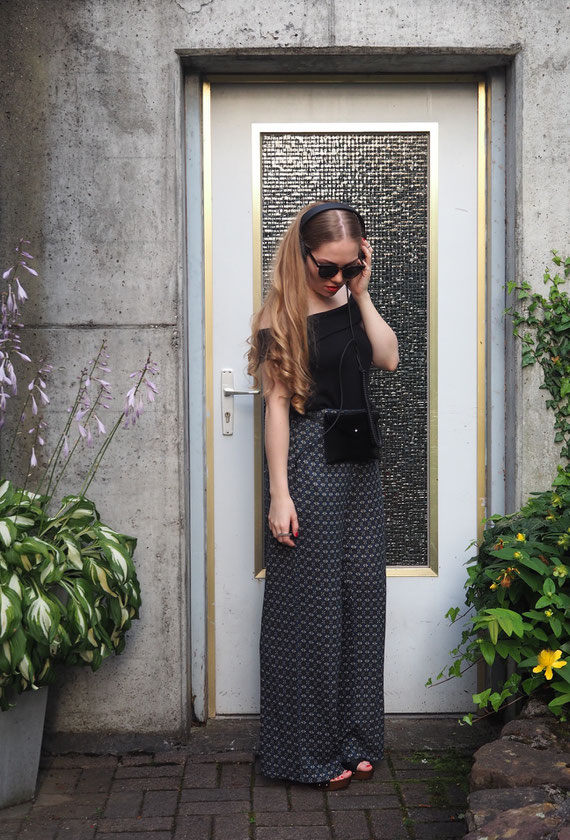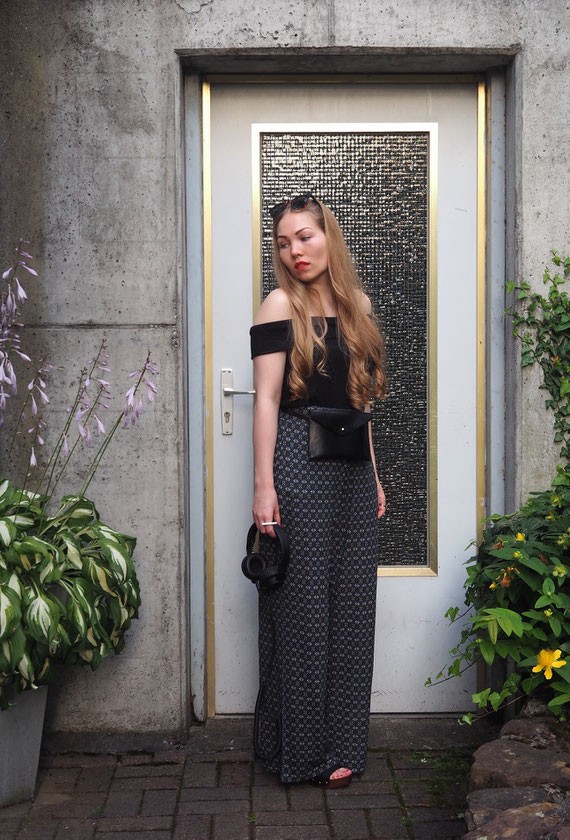 Bei diesem Look sind einige Klassiker präsent, zum einen feiern die 70er Jahre Hose ein Comeback und zum anderen die 90er, welche mit der Bauchtasche und dem Off-Shoulder-Trend vertreten sind. Ich bin ein grosser Fan von simplen Looks, ich liebe schwarz, grau und weiss. Die Bauchtasche ist klein aber fein und dazu noch ganz praktisch, denn alles was beim Festival dabei sein muss wie Geld und Handy kann gut verstaut werden. Unter den Bauchtaschen ist diese sehr elegant und wirkt zeitlos. Das Oberteil ist simpel, sehr dezent und setzt die Schultern vorzüglich in Szene.
Die gemusterte Hose ist ein Blickfang, sie verleiht dem Gesamtbild den Festival Touch und stellt für mich bildlich den Track Balkan von Zone+ & Usif dar. Bei der EP Balkan von Zone+ & Usif entdeckt man viele traditionelle Einflüsse, welche perfekt durch die sphärischen Klänge unterstrichen werden. Genauso wie ich euch die komplette EP empfehlen kann, habe ich auch bei meinen Kleidern ausschliesslich Esprit gewählt.
Im Endeffekt muss ich sagen, das die EP Balkan von Zone+ & Usif diesen Look bis ins kleinste Detail perfekt ergänzt.
Translation
In this look some classics are present, on the one hand the 70s pants are celebrating a comeback and on the other hand the 90s, which are represented by the beltbag and the off-shoulder trend. I am a big fan of simple looks, I love black, grey and white. The beltbag is small but nice and very practical, because everything you need on a festival like money and a mobile phone can get very easily stowed away. Among the beltbags this one is very elegant and seems timeless. The top is simple, very discreet and sets the shoulders exquisitely into the spotlight.
The patterned pants are an eye catcher, they grant the overall picture a festival touch and illustrate for me the track Balkan by Zone+ & Usif. On the EP Balkan by Zone+ & Usif I discovered many traditional influences, which are perfectly underlined by the spherical sounds. Just as I recommend the complete EP, I have chosen exclusively Esprit in my clothes.
In the end I must say that the EP Balkan by Zone+ & Usif complements this look perfectly in to the smallest detail.