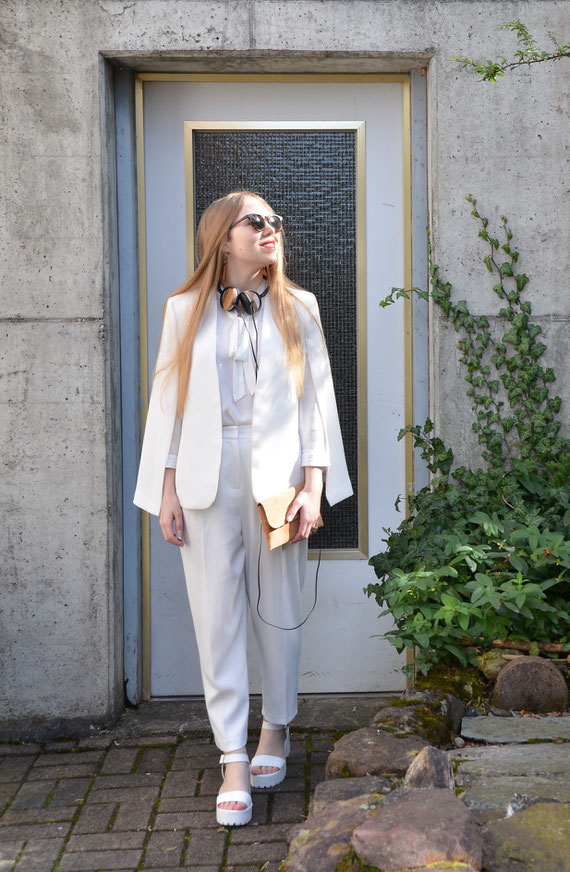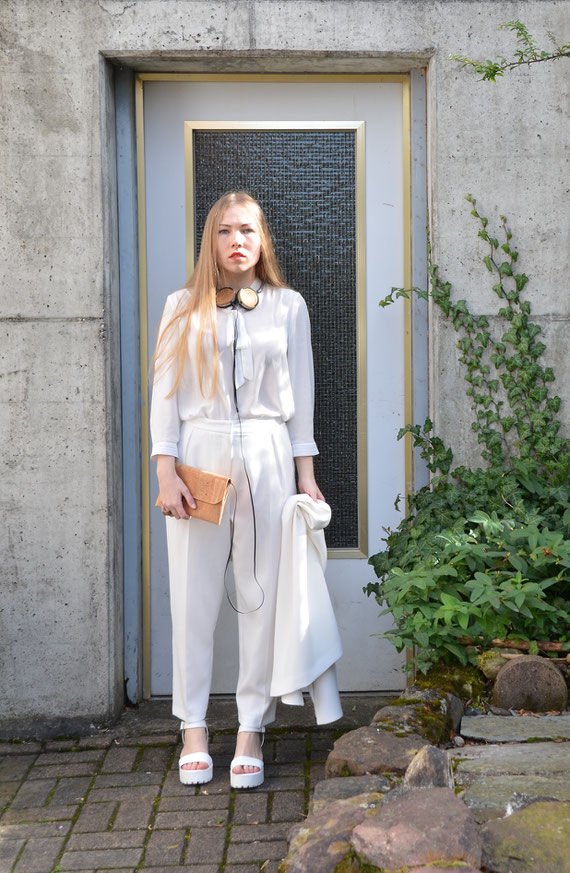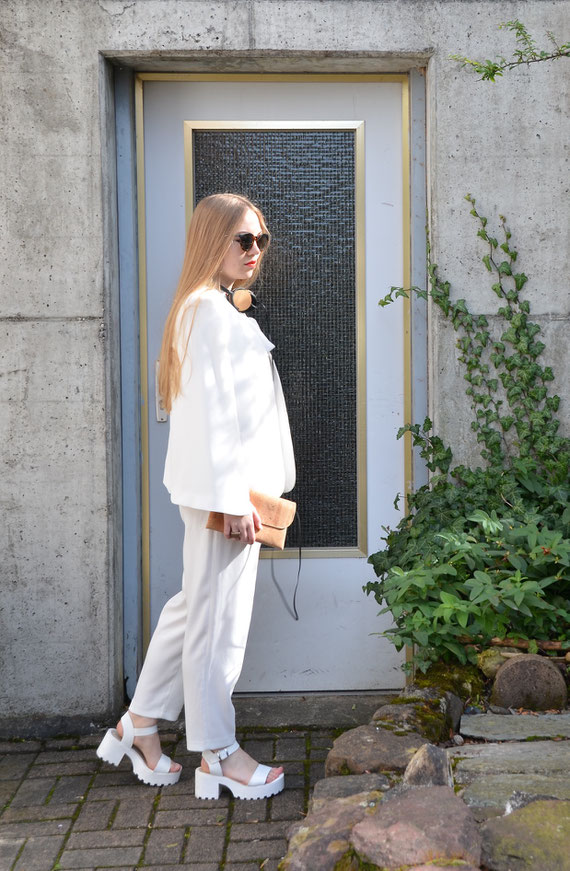 Seit ungefähr drei Jahren schwirrt mir die Idee eines Looks komplett in weiss im Kopf rum. Es war mir wichtig, mich ein wenig zu fordern und habe deshalb verschiedene Teile in weiss ausgesucht, anstelle einfachheitshalber ein weisses Kleid anzuziehen. Über die Monate habe ich die einzelnen Teile gesammelt und verschiedene Kombinationen ausprobiert. Der schicke Blazer, der wie übergeworfen aussieht und die Bluse mit der Schleife, erhalten durch die Schuhe einen lässigen Touch. Die Kopfhörer aus Holz welche speziell für mich angefertigt wurden, die braune Sonnenbrille, die Kork-Clutch sowie mein Holzfingerring bilden ebenfalls eine Einheit. Sie sollen das Gesamtbild nicht fahl wirken lassen.
Beim Track Find Yourself von Mojom geht mir das Herz auf, der Track bringt eine Leichtigkeit mit sich, welche sich mit dem Outfit perfekt ergänzt. Daniel Zobrist welcher hinter Mojom steckt, hat mir mit diesem Track das fehlende Puzzleteil für mein Outfit geliefert. Denn ich habe nun mein All-In-White Outfit gefunden und bin mit dem Ergebnis endlich zufrieden!
Translation
For about three years, the idea of a look completely in white buzzed in my head. It was important for me to challenge myself a little and therefore I have selected different items in white instead of simply putting on a white dress. Over the months I have collected several items and tried out different combinations. The chic blazer, which looks like thrown over my shoulders and the pussy bow blouse receive a casual touch by the shoes. The headphones out of wood which have been specially made for me, the brown sunglasses, the cork clutch and my wooden fingerring also form a unit. They shouldn't make the whole look sallow.
My heart opens by the track Find Yourself by Mojom, the track brings an ease with it, which perfectly complements the outfit. Daniel Zobrist which is behind Mojom, has supplied me with this track the missing puzzle piece for my outfit. Because I found my all-in-white outfit and I am finally satisfied with the result!