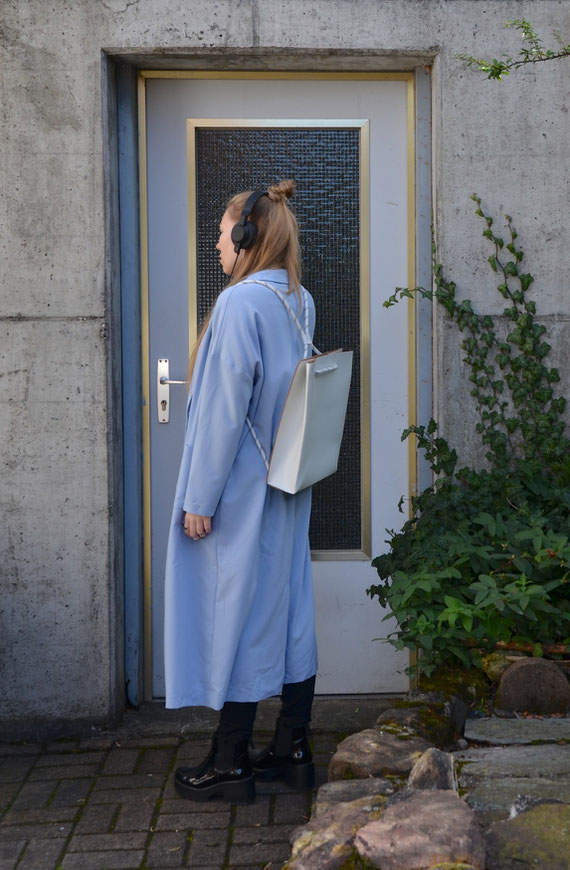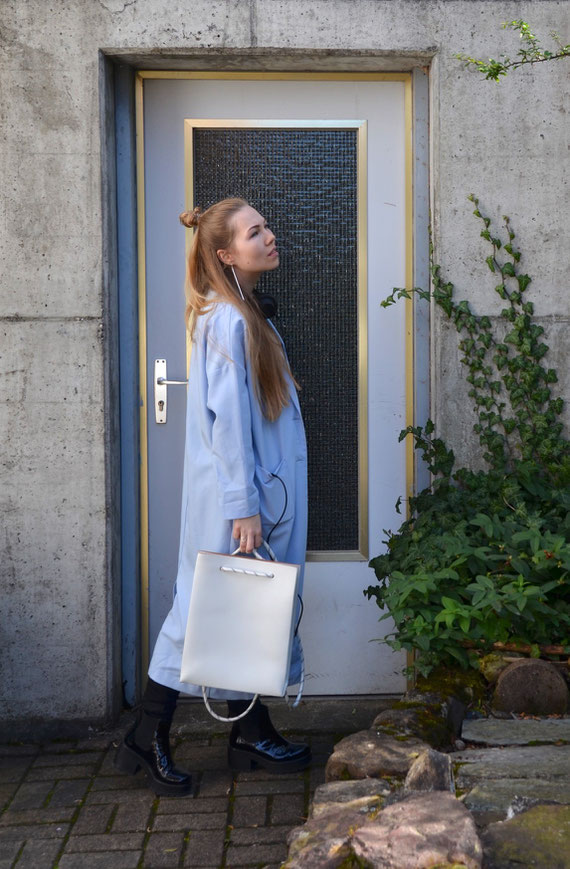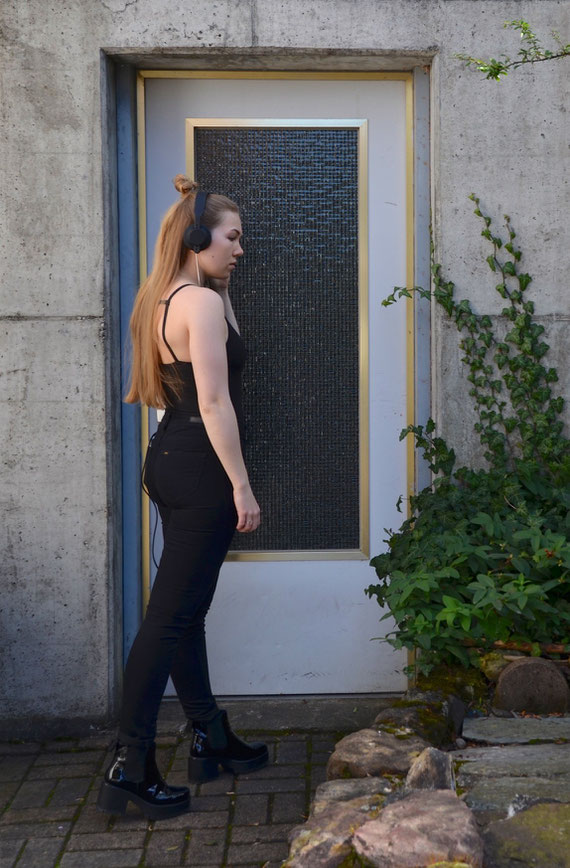 Nach dem Auftritt von Nico Stojan stand ich um 5 Uhr in der Früh an der Tramstation und hörte mir seinen Track Blue Hour an. Obwohl meine Müdigkeit hartnäckig war, drang diese melancholische Melodie immer weiter zu mir vor und die Vocals verzauberten mich. Diese Emotionen liessen mich nicht mehr los und ich war überrascht wie leidenschaftlich mich die Musik machen kann. Die Begeisterung für Musik bestätigte mir der Auftritt von Nico Stojan aufs Neue. Höchstwahrscheinlich war dieser Tram-Moment deshalb sehr intensiv, weil meine Erinnerungen von diesem Auftritts geweckt wurden.
Eine Parallele des Tracks zum Outfit ist ganz offensichtlich mein blauer Mantel. Das helle Blau ist jedoch nicht melancholisch sondern fröhlich und ist für mich in Kombination mit dem weissen Rucksack leicht und frühlingshaft. Ich wäre jedoch nicht ich selbst, wenn es nicht irgendwo einen Kontrast gäbe und dafür sorgen die schwarzen derben Lackschuhe und meine geliebte schwarze Jeans. Die Phrase aus dem Track «a day of happiness» finde ich ganz passend für die Gesamtsituation. Den egal was jemanden zum Lächeln bringt, Hauptsache es wird in jedem Tag ein Stückchen Glück gefunden.
Translation
After the gig of Nico Stojan I stood at 5 o'clock in the morning at the tramway station and listened to his track Blue Hour. Although my fatigue had persisted, the melancholy melody advanced to me and the vocals enchanted me. These emotions don't let me go and I was surprised how music can make me passionate. The enthusiasm for music confirmed me the gig of Nico Stojan anew. Very probably, this tramway moment was therefore very intense, because my memories were awakened by this gig.
A parallel of the track to the outfit is obviously my blue coat. However, the light blue is for me not melancholic but brightly and in combination with the white backpack light and springlike. I wouldn't be me if there wasn't somewhere a contrast and for this my black rough patent leather boots and my beloved black jeans take care. I find the phrase from the track "a day of happiness" quite appropriate for the overall situation. No matter what brings someone to smile, the main thing is to find a piece of luck in every day.