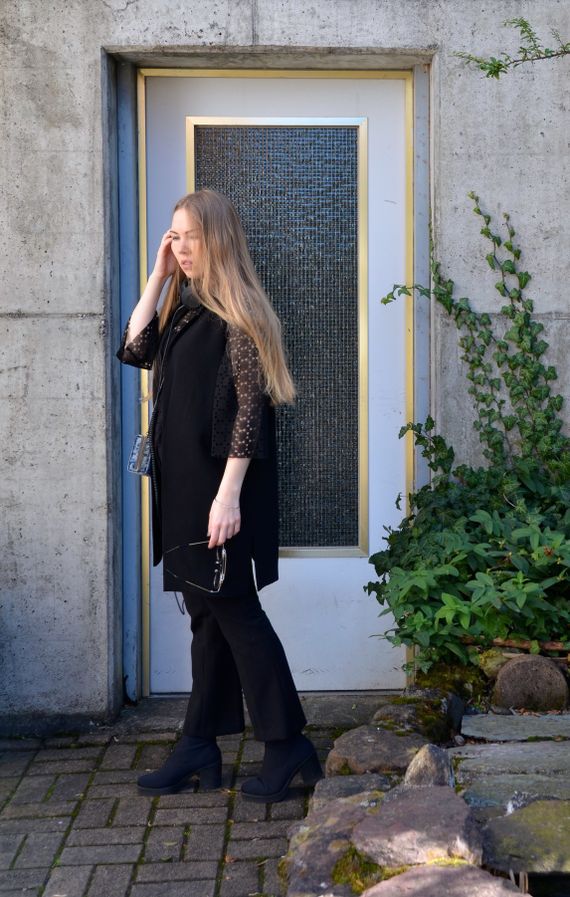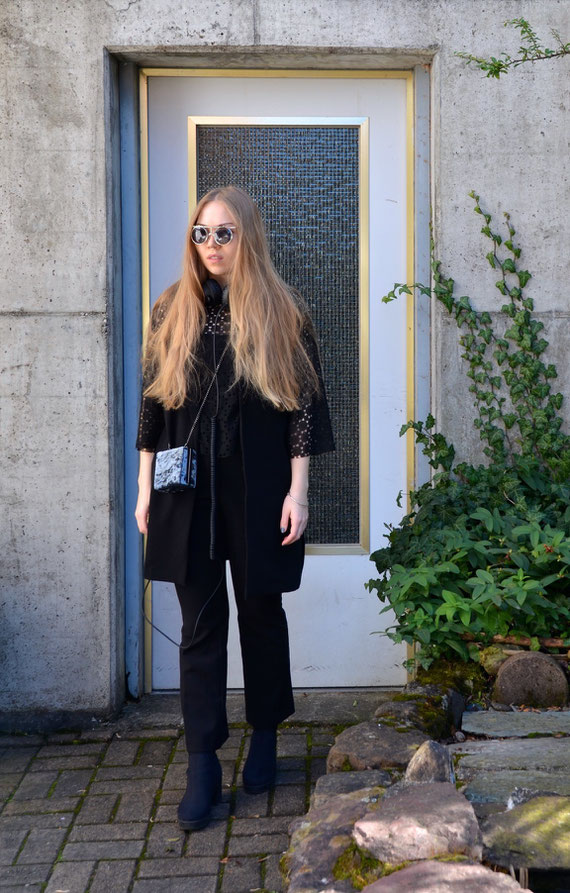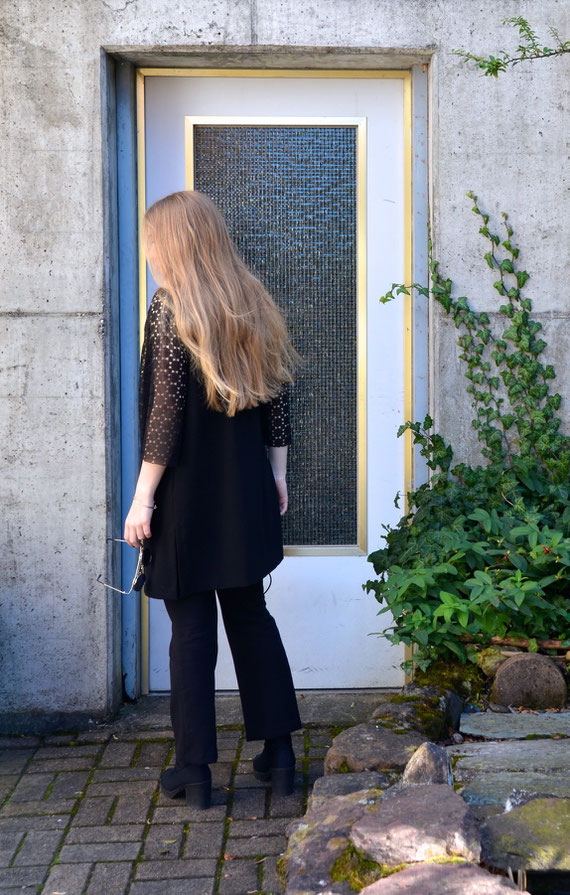 Diese Momente, in denen man sich von guten Freunden bei einer Tasse Kaffee oder Tee ihre Geschichten anhört, sind so wertvoll, da es von denen viel zu wenig gibt und man kurz danach ein bisschen wehmütig wird, weil diese Momente so schnell vergehen.
Meine Geschichte ist in meiner Bluse versteckt, welche ich selbst genäht habe. Es ist ein tolles Gefühl, die eigene vollendete Kreation in den Händen zu halten, denn der Zeitaufwand sowie auch die Geduld lohnen sich schon alleine wegen dieses Gefühls. Der leichte Schlag der Hose oder die Neopren Boots sowie auch die kleine und feine Tasche aus Samt sind durchaus erwähnenswert, sie sollen im Outfit jedoch bewusst schlicht wirken, so dass die Geschichte der Bluse in den Vordergrund rückt.
Die EP Big Tales von Die Wiese Im Garten (DWIG) besteht aus dem Track Orange Evening, Big Tales und DWIGs Dirty Dress Remix des Tracks Orange Evening. Der Track Orange Evening ist für mich wie die Vorfreude auf das Wiedersehen mit Freunden. Das Video des Tracks ist der Disney Kurzfilm Flowers And Trees aus der Silly Symphonies Reihe, welchen ich wärmstens empfehlen kann – sehr liebevoll gemacht. Zum Track Big Tales kann ich nur sagen, hört zu, es handelt sich hier um eine echt gute Geschichte ;)
Translation
The moments, when you listen to the stories of your good friends while drinking a cup of tea or coffee are so valuable, because there are far too few of these and shortly after you get a bit wistfully, because these moments go by so quickly.
My story is hidden in my blouse, which I have sewn myself. It's a great feeling to hold your own completed creation in your hands, the expenditure of time and the patience are worth it, only for this feeling. The bell-bottom of the pants or the neoprene boots as well as the small velvet bag are quite mentionable, however, they should consciously act simply in the look, so that the story of the blouse comes to the fore.
The EP Big Tales by Die Wiese Im Garten (DWIG) consists of the track Orange Evening, Big Tales and DWIGs Dirty Dress remix of the track Orange Evening. The track Orange Evening for me is like the anticipation of the reunion with friends. The video of the track, is the Disney short film Flowers And Trees of the series Silly Symphonies, which I highly recommend - so lovely made. Listen to the track Big Tales, because it is about a really good story ;)