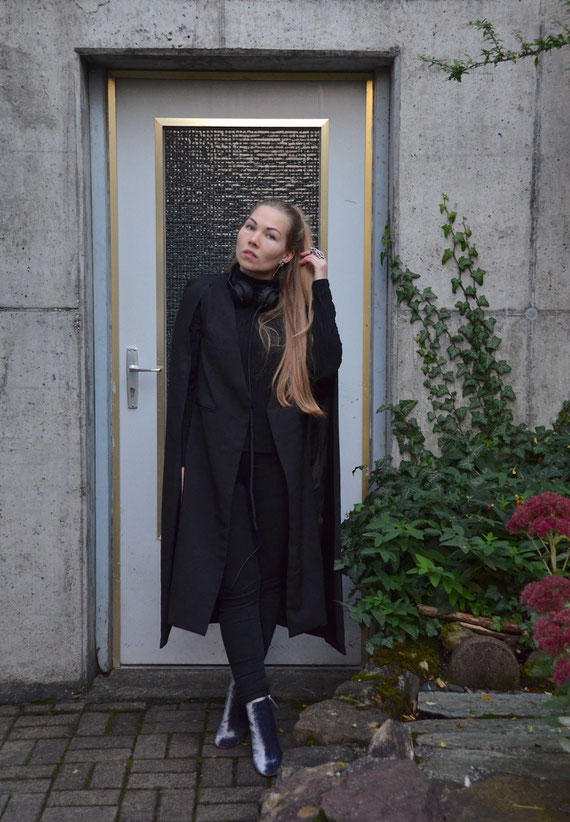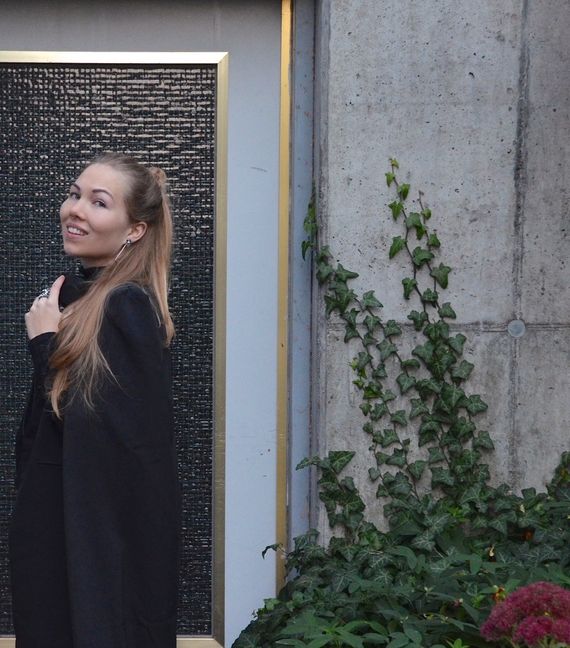 JAMES BLAKE - DIGITAL LION
Hurra! Endlich ist die Zeit um Samt zu tragen da! Die hübschen lila Samtboots waren ein Geschenk an mich selbst nach meiner Abschlussprüfung.
Der Look ist für mich jedoch mit den Boots nicht fertig gedacht. Für das simple gewisse Etwas trägt der schwarze Fledermaus-ähnliche Cape bei. Das kastige Cape sowie die dreieckigen Ohrringe sind das Pendant zum samtigen Lila, welches sich in den Ohrringen und dem wuchtigen Fingerring wiederfindet.
Wenn ich die Samtboots an meinen Füssen sehe, denke ich an Samtpfoten oder Katzentatzen, wenn man so will. Die Eleganz, die Katzen an den Tag legen, wie sie sich auf eine charmante Art und Weise das nehmen, was sie gerne möchten, ist schon beeindruckend. Sogar mein alter Kater besitzt die ;)
Schon seit mehr als zwei Jahren begleitet mich das Album Overgrown von James Blake. Ich gönn mir immer wieder einige Momente, um dieses musikalische Meisterwerk zu geniessen. Die sphärisch, sanft, langgezogenen Klänge des Tracks Digital Lion mit Gospel-ähnlichen Teilen und ganz klar dominierendem Minimalismus, ergänzt meinen Look perfekt. Denn auch ein Löwe hat seine weichen Seiten, welche symbolisch für meine Samt"pfoten" stehen.
Translation
Hurrah! The time has finally come to wear velvet! The pretty velvet-boots in lilac, were a gift to myself for my final examination.
However, the look is not finished just with the boots. The black bat-like cape is conducive for the simple certain something. The boxy cape and the triangular earrings are the counterpart to the velvety lilac, which can be found again in the earrings and the massive finger ring.
When I see the velvet-boots on my feet, I have velvet paws in mind or cat paws, if you will. Cats display an elegance, they take what they want in a charming way, which is quite impressive. Even my old male cat has it ;)
For over two years the album Overgrown by James Blake has accompanied me. On and off, I treat myself with a few moments to enjoy this musical masterpiece. The spherical, soft, drawn-out sounds of the track Digital Lion with gospel-like parts and a clear dominating minimalism, supplemented my look perfectly. Also a lion has a soft side, which stands symbolic for my velvet"paws".