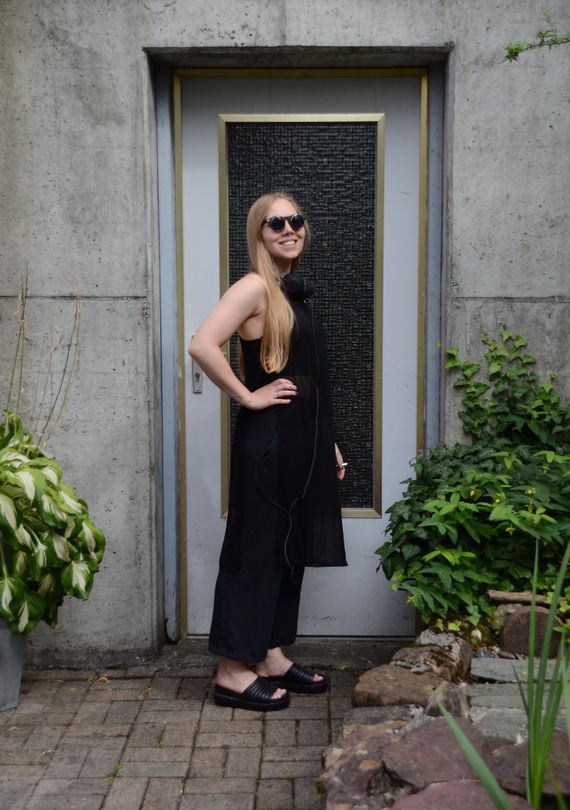 CHRISTOPHER SCHWARZWÄLDER - EP THREE RIVERS


Meine Pflanzen sind genauso grün wie der Track Flowers Are Green von Christopher Schwarzwälder, Iannis Ritter und Mo. Die EP Three Rivers von Chris Schwarzwälder ist grandios! Mit dem Track High kommt die EP langsam ins Rollen und reisst schnell mit. Aber Achtung, man wird davon abhängig. Der Track Flowers Are Green, zaubert mir ein Lachen ins Gesicht. Ich höre mir den Track in Endlosschlaufe an und freue mich jedes Mal wenn er wieder von vorne losgeht. Zu guter Letzt, Elevator Music, der Track weckt das heimliche Bedürfnis in einem Aufzug ausgelassen zu tanzen. Es ist immer wieder spannend zu beobachten, wie viele Gefühle durch die Musik geweckt werden.
Bei Kleidung liebe ich die Reduktion, sich auf das Wesentliche zu konzentrieren. Aus diesem Grund habe ich mich bei diesem Look für Schwarz entschieden und eine graue Tasche von S M K. Dieses Outfit ist eine Liebeserklärung an den Minimalismus. Da ich meine Gefühle und Emotionen aber nicht ausschalten kann, lässt mir die EP Three Rivers genug Raum dazu, diese ganz konkret auszuleben.
Translation
My plants are just as green as the track Flowers Are Green by Christopher Schwarzwalder, Iannis Ritter and Mo. The EP Three Rivers by Chris Schwarzwalder is terrific! The EP slowly starts rolling with the track High and entertains very quickly. But be careful, you will get addicted to it. The track Flowers Are Green conjures me a laugh into my face. I listen to the track in infinite loop and look forward every time it starts all over again. In the end, Elevator Music, the track evokes the secret want to dance hilariously in an elevator. Again and again, it is exciting to observe how many feelings are aroused by music.

I love the reduction at clothing and to focus on the essential. For this reason, I have decided in this look for black and a grey bag by S M K. This outfit is a declaration of love to the minimalism. The EP Three Rivers gives me enough space to live out my feelings and emotions very concretely, because I cannot turn them off.