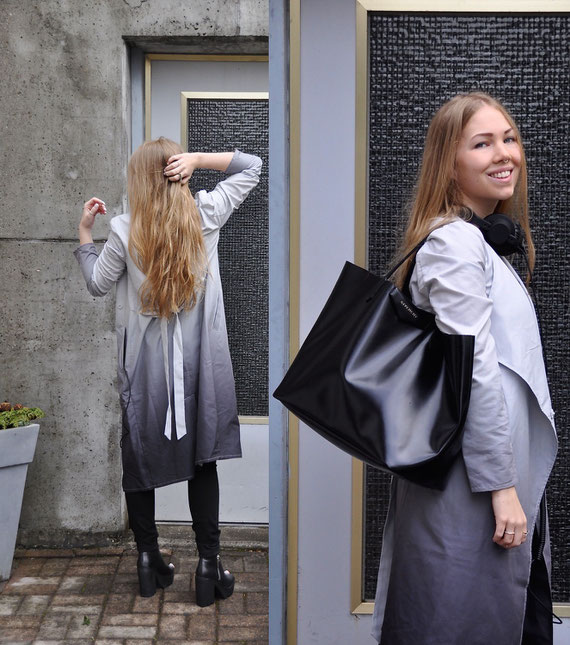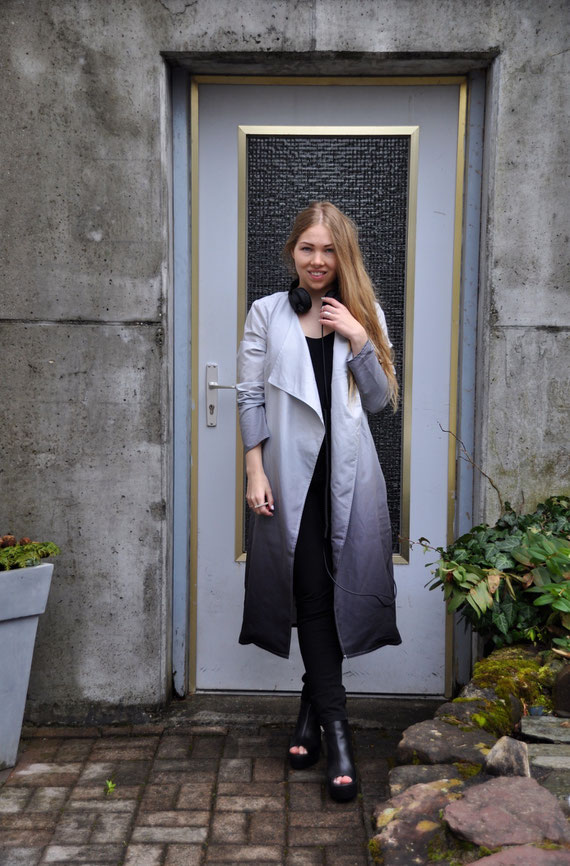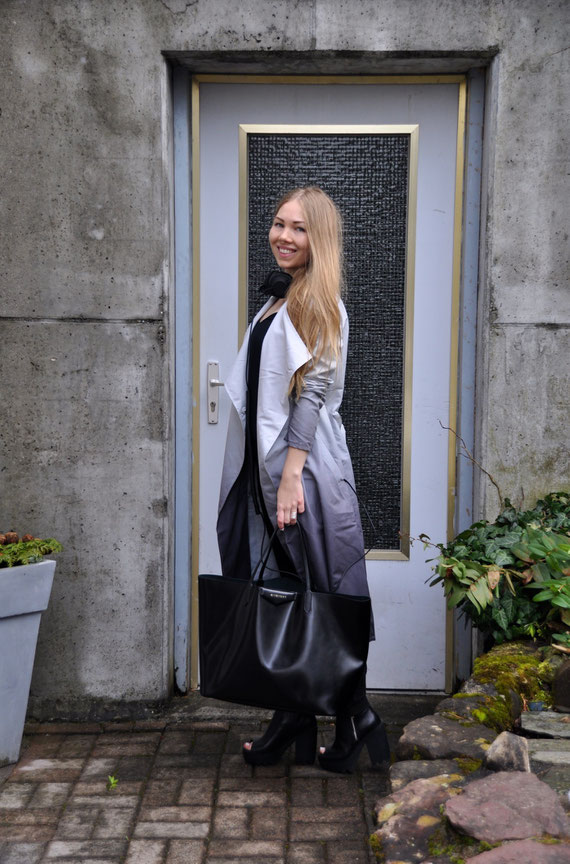 Die meisten Frauen lieben Schuhe und Taschen, ich gehöre da auch dazu. Zusätzlich habe ich aber noch ein Faible für Jacken und Mäntel. Der leichte Stoff und der Ombre Look haben mich bezaubert. Beim Tragen kommen die Frühlingsgefühle von alleine. Es wäre aber nicht mein Stil, wenn ich nicht noch einen Kontrast einbauen würde, deshalb habe ich für den Rest des Outfits schwarze Kleidung gewählt, so sticht der Mantel bewusst hervor. Die Schuhe sind derber im Gegensatz zum feinen Stoff des Mantels.
Als ich zum ersten Mal den Track Earth von Nu hörte, habe ich jegliches Zeitgefühl vergessen - er ging mir tief unter die Haut. Die Lyrics stammen aus einem Gedicht des persischen Dichters Dschalal ad-Din Muhammad Rumi auch Mevlana Rumi genannt. Die emphatische Aussage des Tracks verbinde ich mit dem Kernstück meines Outfits, dem Mantel. Der repetitive Beat steht für meine schwarze Kleidung, nicht zu vergessen die unglaubliche Tiefe dieses Tracks und dafür stehen meine Schuhe, die den nötigen Underground Flair mitbringen.
Mode ist das Pendant zu Musik und dieser Look zu diesem Track. Earth versetzt mich in einen tranceartigen Zustand, der nicht aufzuhören scheint. Schon erstaunlich was Musik alles in Gang bringen kann.
Translation
Most women love shoes and bags, I belong to them too. Additionally I have a weakness for jackets and coats. The lightweight fabric and the Ombre look have charmed me. When you are wearing the coat, the spring fever comes all by itself. But it wouldn't be my style, if I didn't integrate a contrast, therefore I have chosen black clothes for the rest of the outfit, so the coat stands out consciously. The shoes are rough in contrast to the fine fabric of the jacket.
When I heard the track Earth by Nu for the first time, I forgot all sense of time - it went deeply under my skin. The lyrics are by a Persian poem called Jalal ad-Din Muhammad Rumi and also known as Mevlana Rumi. I connect the emphatic statement of the track with the core of my outfit, the coat. The repetitive beat stands for my black clothes, not to forget the incredible depth of the track and this is what my shoes stand for, they bring the necessary Underground flair with.
Fashion is the counterpart to music as this look is to the track. Earth puts me in a trance-like state, which does not seem to stop. Amazing, that music can bring so much in motion.