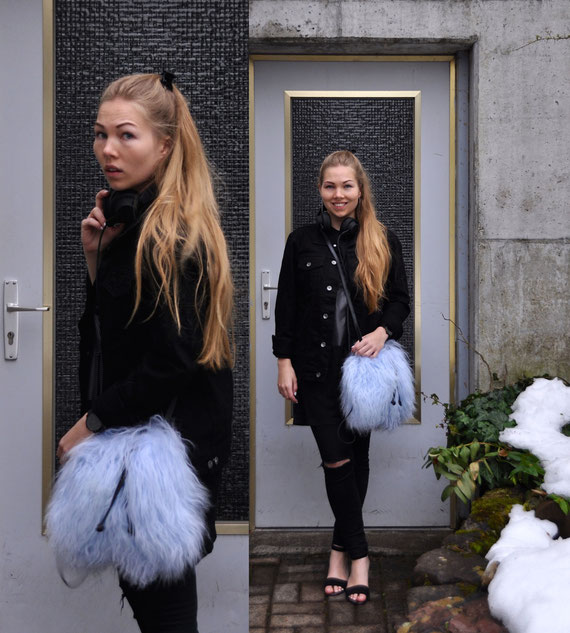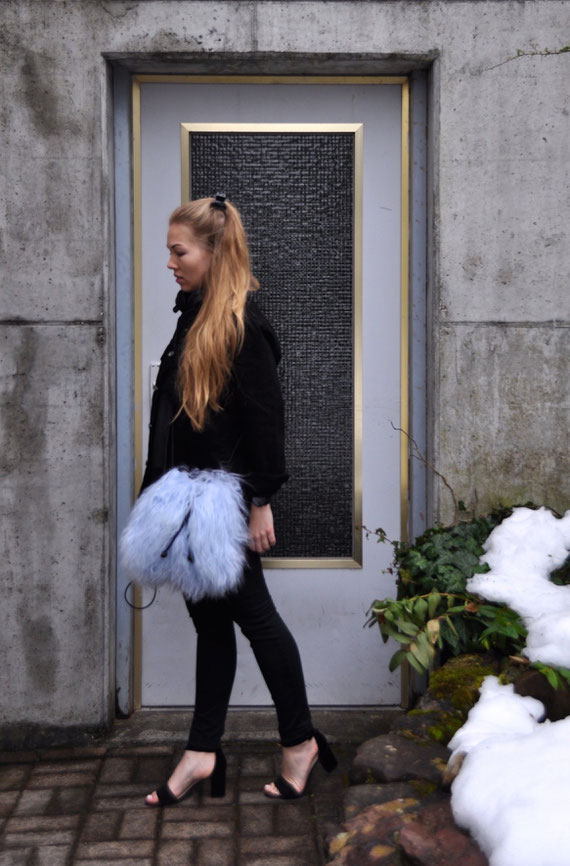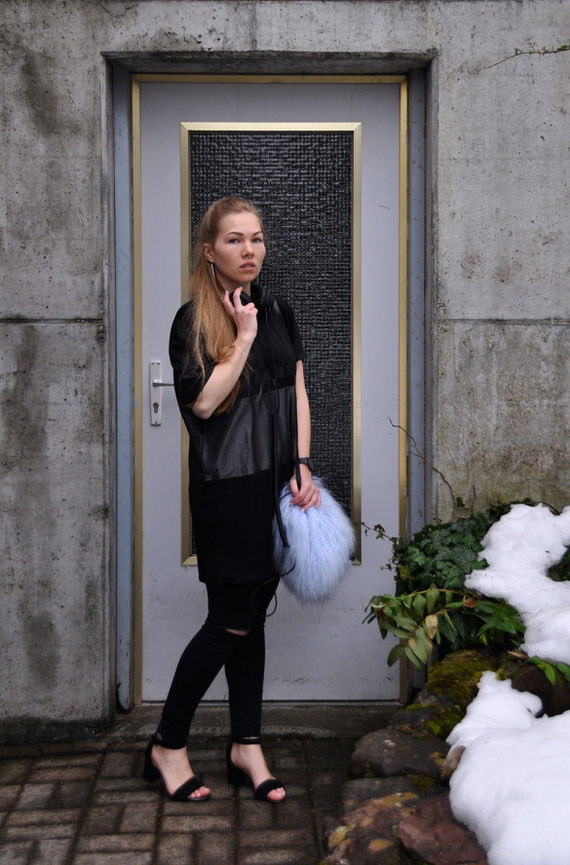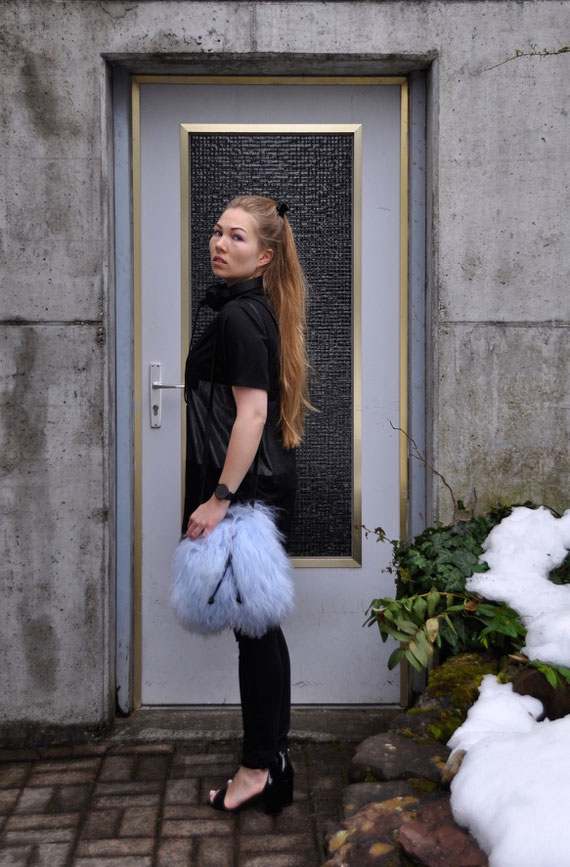 DANIEL BORTZ - MONKEY BIZNIZZ

Flauschige Sachen begeistern mich, ob Schuhe, Taschen oder Kleidungsstücke ist völlig egal, Hauptsache weich und haarig. Es ist etwas weit hergeholt, aber als ich in Bali die vielen Makaken gesehen habe, hätte ich am liebsten einen mit Nachhause genommen (auch wenn dieser wahrscheinlich noch frecher als mein Kater gewesen wäre). Obwohl die Beuteltasche hellblau ist, assoziiere ich damit ein Äffchen aus Bali, mein kleines hellblaues puscheliges Äffchen.
Mein Outfit ist sehr simpel, das Tolle daran ist, dass die schicke Sandale und der coole schwarze Jeansstoff so gut zusammen funktionieren. Ich habe eine Kombination, die besser nicht sein könnte und muss nicht zwischen schick und cool entscheiden. Auch das Teil von Alexander Wang liegt mir am Herzen, da es wandelbar und interessant ist und als T-Shirt oder als Kleid getragen werden kann.
Das Äffchen bildet den Strang zu Daniel Bortz' Track Monkey Biznizz. Der Track ist facettenreich, da er trotz der wenigen Worte eine Seele hat. Die ersten zweieinhalb Minuten sind konstant und stehen für die Schlichtheit in meinem Outfit. Mein hellblaues Äffchen und mein Teil von Alexander Wang ist die Sahnehaube auf der Torte, welche dem Track gleichstellt und sich enorm entfaltet. Monkey Biznizz - eine wahrhaftige Inspiration.
Translation
I am so into fluffy things, whether shoes, bags or clothes it does not matter, the main thing is it has to be soft and hairy. It is a bit far-fetched, but when I saw the many macaques in Bali, I would have liked to take one home (even if the monkey probably would be more cheeky than my male cat). Although the bag is light blue, I associate it with a little monkey from Bali, my light blue fleecy little monkey.
My outfit is very simple, the great thing is, that the chic sandal and the cool black denim work together so well. I have a combination that could not be better and I do not have to decide between chic and cool. Also the item by Alexander Wang is close to my heart, because it is changeable and interesting and it can be worn as a t-shirt or a dress.
The monkey is the strand to Daniel Bortz' track Monkey Biznizz. The track is multifaceted, because it has a soul, despite of few words. The first two and a half minutes are constant and stand for the simplicity in my outfit. My light blue little monkey and my item by Alexander Wang are the icing on the cake, which is equate to the track and unfolds enormously. Monkey Biznizz - a real inspiration.