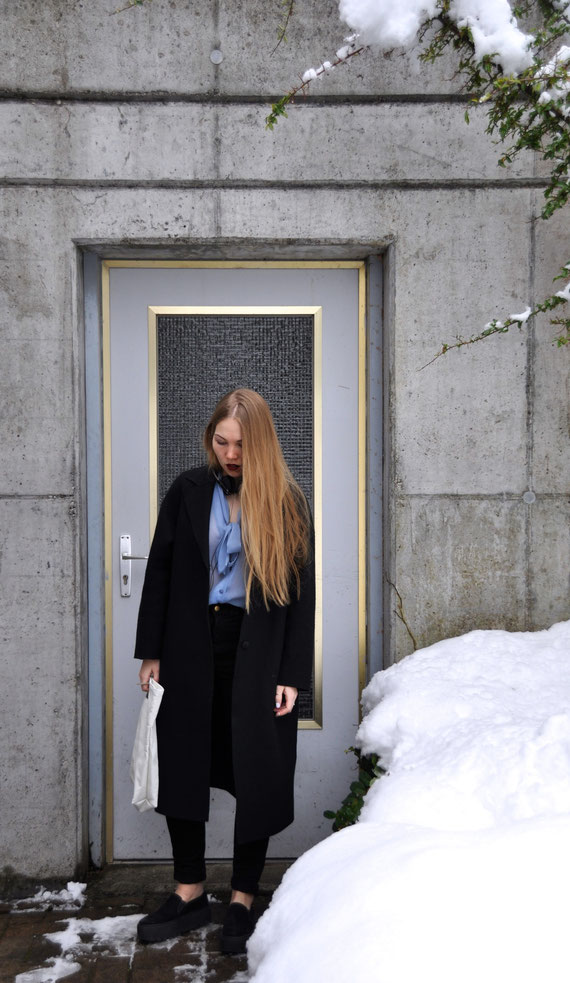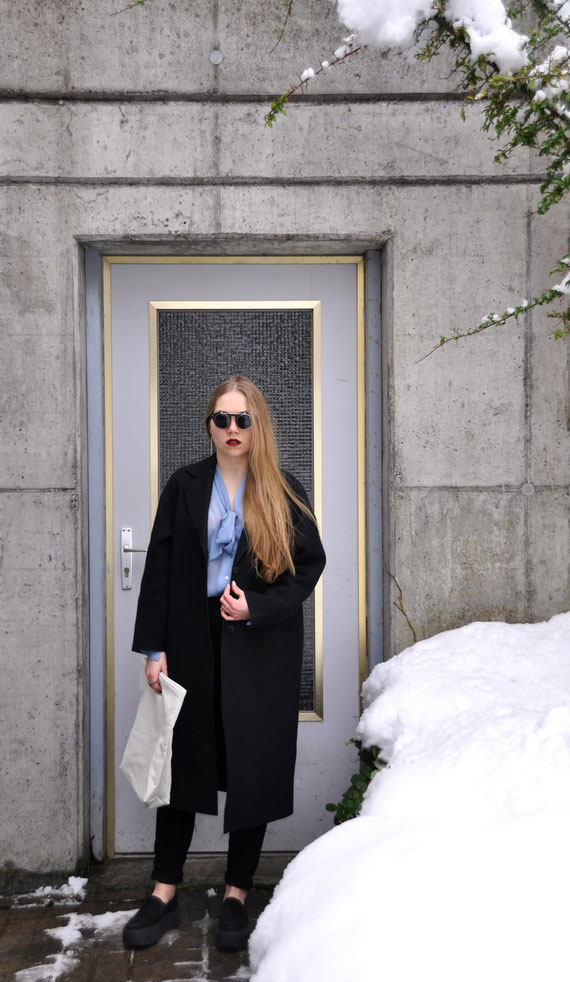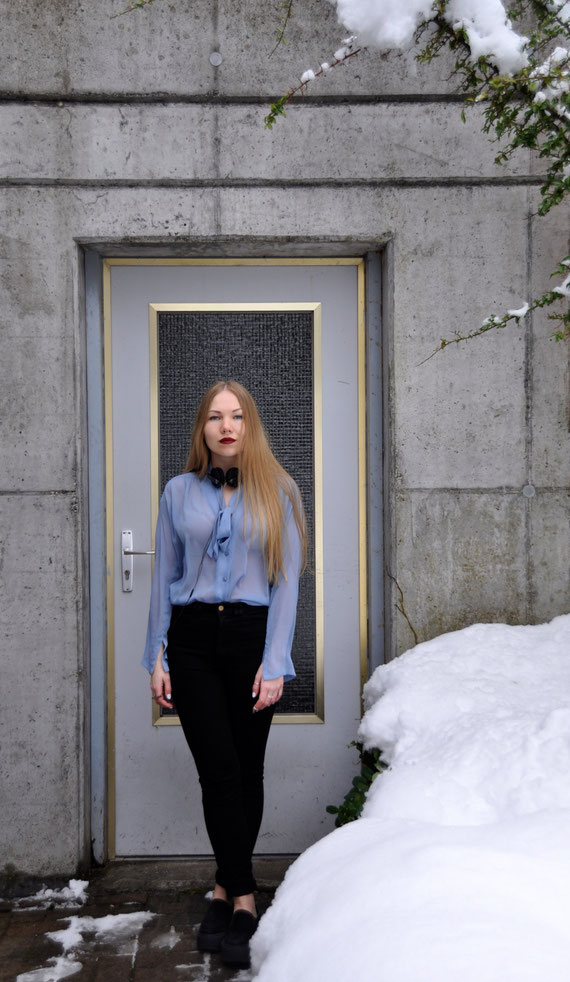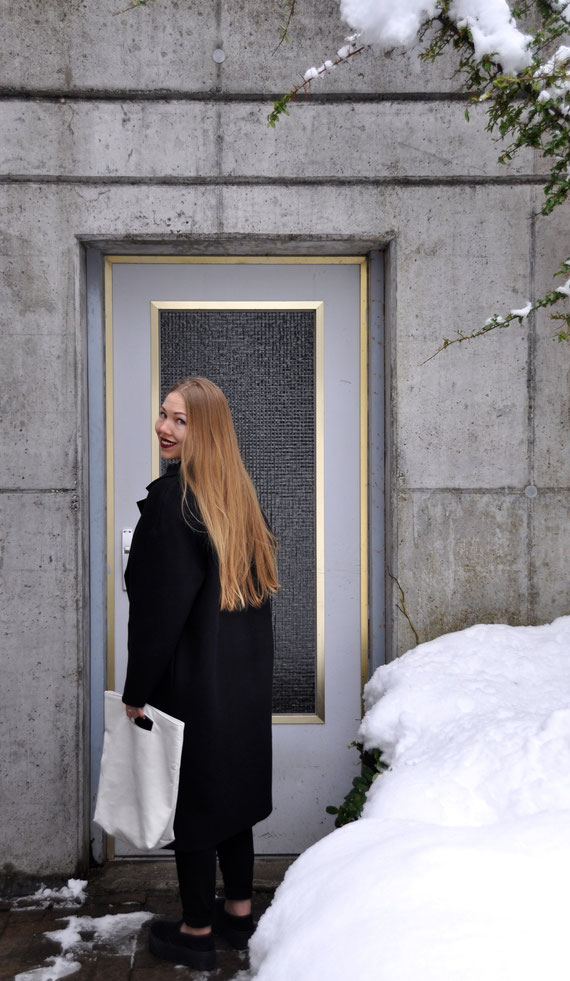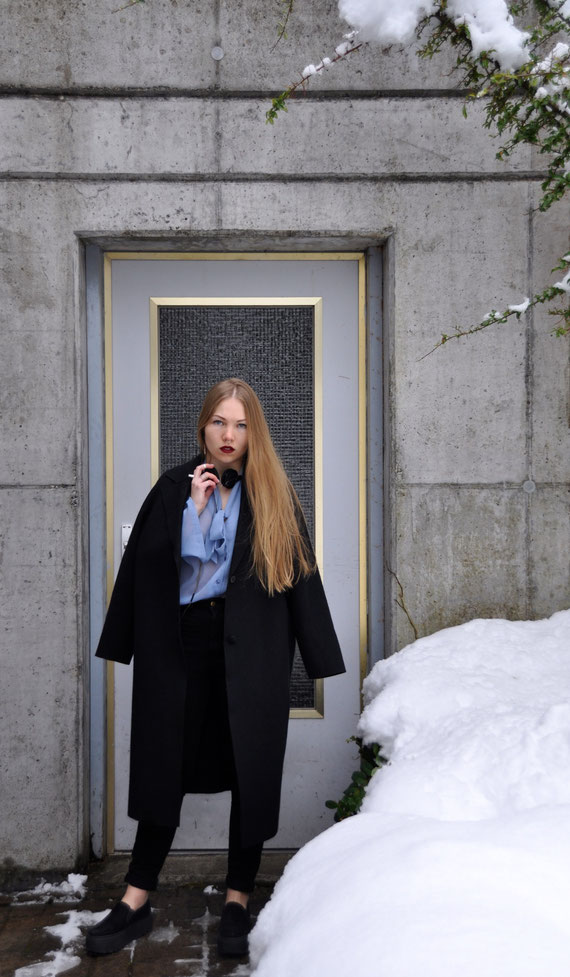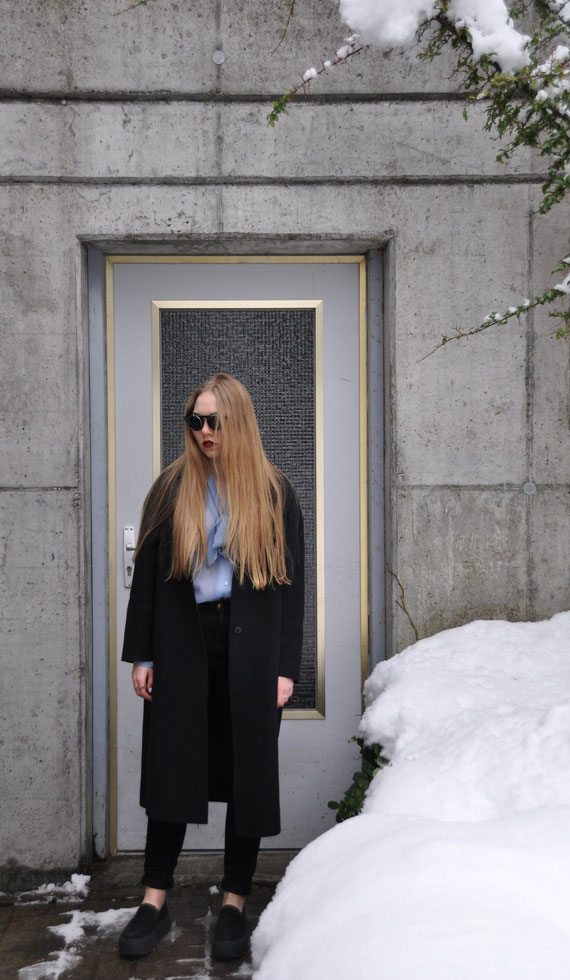 Einige beginnen ihr Outfit bei den Socken, bei mir sind die meistens schwarz… Dafür lege ich mehr Wert auf die Trackauswahl, die kann nämlich anregend sein, so auch hier. L.O.V.E. von Ante Perry in einem Remix von Canson und in einem anderen von Nu höre ich auf und ab.
Dieses Outfit ist inspiriert durch diese beiden Remixes. Für den Mantel hab ich einen enormen Aufwand betrieben und ihn nach London zu einer Freundin liefern lassen, welchen sie mir pünktlich zu Weihnachten gebracht hat, also wenn das nicht Liebe ist, dann weiss ich auch nicht :)
Eigentlich ist dieser Look sehr praktisch, denn einerseits ist man mit einer Bluse nie schlecht bestückt, sie tut was für den Schick. Die Jeans und die Slip-ons sind einfach cool, die Kombination bringt das Outfit auf ein Level, dass cool und schick zugleich ist. Der rote Lippenstift spricht für sich, denke ich. Im Gesamten ein Look, den ich durch und durch liebe und das gilt auch für die Tracks. Der Canson Remix gefällt mir ein Tick besser, obwohl der von Nu auch fantastisch ist. Aber hört selbst und macht was draus – mit Herz, versteht sich!
Translation
Some people begin their outfit with the socks, for me they are mostly black... Therefore I put more emphasis on the track selection, which can be so stimulating namely as in this case. I hear the track L.O.V.E. by Ante Perry in a remix by Canson and in another remix by Nu over and over.
This outfit is inspired by these two remixes. I made a huge effort to order this coat to a friend of mine in London, she brought me the coat right on time for Christmas. So if that is not love, then I don't know :)
This look actually is very convenient, because on the one hand you are never bad-endowed with a blouse, which works for the peachiness. The jeans and slip-ons are just cool, the combination brings the outfit to a level, that is cool and chic at the same time. I think the red lipstick speaks for itself. As a whole, it is a look which I out-and-out love and that also applies to the tracks. I prefer the remix by Canson a little bit more, although the remix by Nu is fantastic. But listen for yourself and make something out of it - with heart, of course!