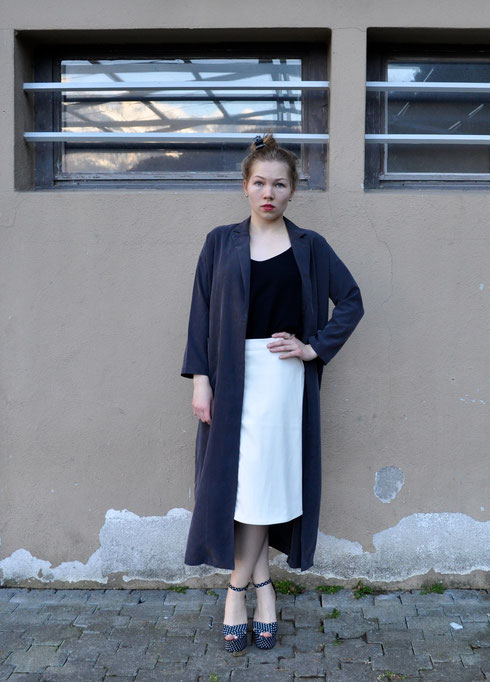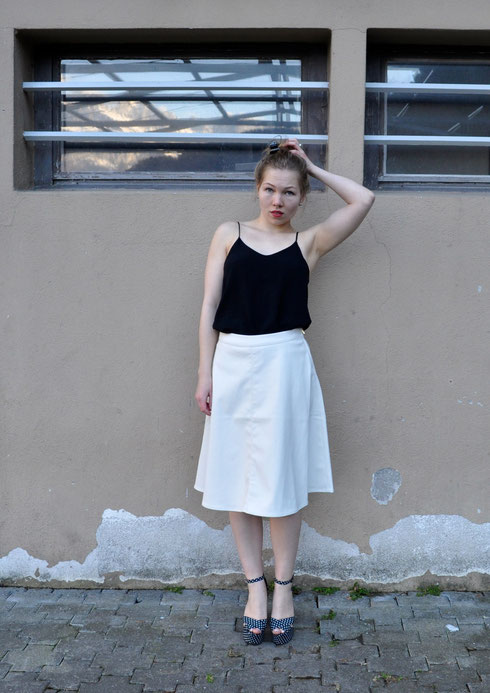 NICOLAS JAAR - WITH JUST ONE GLANCE

Der Look erinnert mich ein bisschen an die 50er Jahre. Wobei er von mir minimaler inszeniert wurde. Der Rock hat einen knielangen A-Linien Schnitt, anstelle des Punktedrucks ist er aus weissem Leder. Unaufdringlich und dezent wirkt der Punktedruck auf den Schuhen, ebenfalls schlicht und einfach, das schwarze Camisole. Eines meiner Lieblingsteile ist der Mantel von Monki, er widerspiegelt für mich Zeitlosigkeit, Beständigkeit und Minimalismus pur. Mit diesem Mantel kann mich nichts aus dem Konzept bringen, ausser vielleicht der Track With just one glance von Nicolas Jaar?
Die Base ist beständig und gut. Die Vocals basieren sehr auf emotionaler Ebene, wie zum Beispiel «die Abendsonne auf deinem Haar» oder «mit nur einem Blick, zerreisst du mir den Rock» und die Melodie verleiht dem Track das gewisse Etwas. Bei Kleidung geht es grundsätzlich um nichts anderes als um Gefühle und Stimmung. Dieser Look ist für mich etwas Besonderes, auf der einen Seite kommt es selten vor, dass ich mich so kleide und auf der anderen ist der Look nicht aus Gewohnheit sondern aus der Stimmung heraus entstanden. Damit ich mich nicht von so einem wunderbaren Track aus der Fassung bringe lasse, beschützt mich der Mantel vor dem Ungewissen und gibt mir die Sicherheit mich von Kopf bis Fuss wohl zu fühlen und genau so sollte es sein :)
Translation
The look reminds me a bit of the fifties. Whereupon the minimum look was staged by me. The skirt has a knee-length a-line cut, it is made of white leather instead of the polka-dot-print. The polka-dot-print on the heels acts unobtrusive and restrained, also plain and simple, the black camisole. One of my favorite items is the coat by Monki, it reflects timelessness, consistency and pure minimalism to me. I can't get out of concept with this coat, except perhaps by the track With just one glance by Nicolas Jaar?
The base is stable and good. The vocals are based on a emotional level, such as «the evening sun upon your hair» or «with just one glance you tear my skirt» and the melody gives the track a certain something. Basically, the way you style is nothing more than feelings and mood. This look is very special to me, on the one hand, it is rare that I dress that way and on the other hand the look is created out of my mood and not out of habit. So that I will not loose my balance, because of this wonderful track, the coat is protecting me from the uncertainty and gives me the security to feeling good from head to toe and so should it be :)