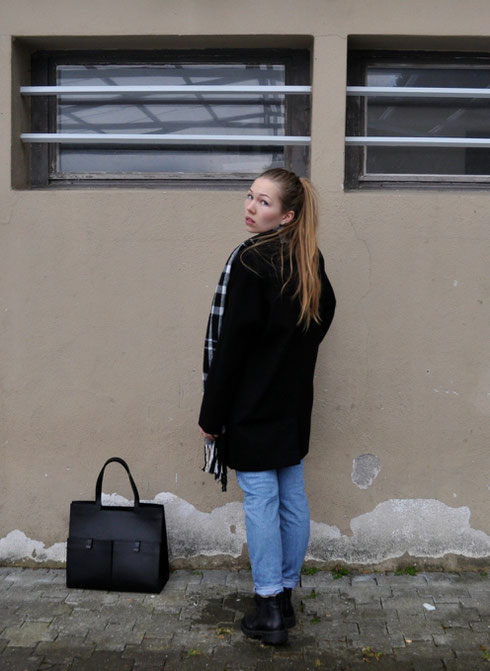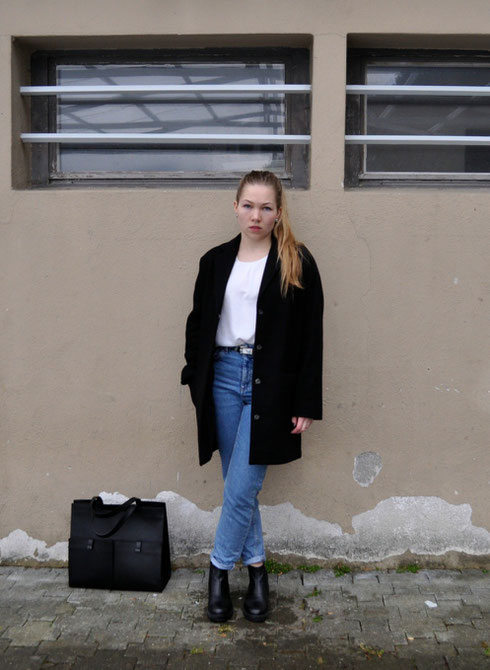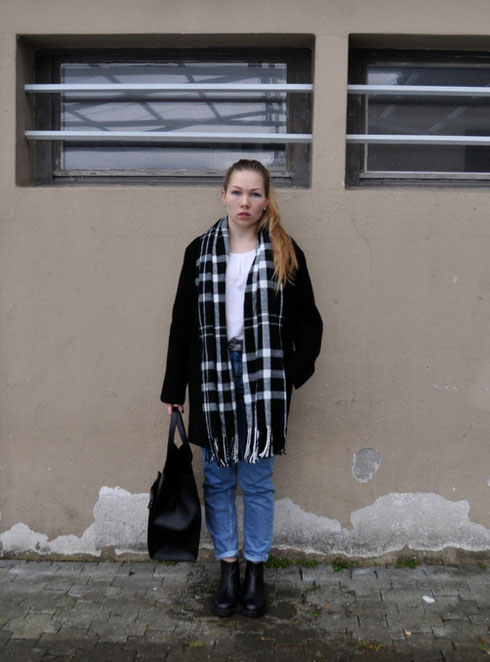 GRAHAM NASH - BETTER NIGHTS (SOCIAL DISCO CLUB EDIT)

Ich hätte niemals gedacht, das ich jemals eine helle Jeans tragen werde. Aber sag niemals nie, oder? Mom Jean klingt leider etwas abwertend. Aber eigentlich war sie damals bis Mitte der 1990er Jahre wirklich dazu gedacht um unvorteilhafte Zonen (Gesäss, Bauch und Beinbereich) zu kaschieren. Mir gefällt die Jeans, weil sie einfarbig ist, keine Verwaschungen und Verbleichungen und der hohe Bund find ich ganz besonders toll. Ich wurde angehauen, ob ich zur Autowerkstatt wolle. Da musste ich leicht schmunzeln, ich hätte den Look nicht so «praktisch» eingestuft. Um dagegen zu wirken, steht die weisse Bluse sowie der schwarze zeitlose Mantel (ein «MUSS» in jedem Kleiderschrank).
Von der musikalischen Seite habe ich Better Nights Social Disco Club Edit von Graham Nash ausgesucht. Das Original Better Days von Graham Nash ist aus dem Jahre 1971. Der Track sowie auch die Jeans stammen aus früheren Zeiten. Da wir aber alle mit der Zeit gehen, wurde auch dieser Track gepimpt und entstanden ist Better Nights. Genial, oder?
Translation
I never thought that I would ever wear a bright jeans. But never say never, right? Mom Jean sounds unfortunately somehow pejorative. But actually she meant to conceal in 1990s really unfavorable zones (buttocks, abdomen and leg area). I like the jeans, because she is plain-colored, no blurring and fading and I find the high waist particularly great. I was asked, if I am going to the auto repair shop. I had a good chuckle over that, I wouldn't have classified the look as so «practical». To act against the «practical» I wear the white blouse and the black timeless coat (a «must have» in every wardrobe).
From the musical point of view I chose Better Nights (Social Disco Club Edit) by Graham Nash. The Original Better Days by Graham Nash is from the 1971. The track as well as the jeans are from earlier times. But as we all keep up with time, and this track was pimped and emerged is Better Nights. Awesome, isn't it?